No matter if it is Christmas, anniversary or your Dad or Mom's birthday, consumer electronic gadgets never go out of fashion. And in fact the number one type of product on typical people's wish list is consumer electronic. Giving people a smart phone or watch will never get a "dislike" look from their face. Here is a list of the latest and greatest consumer electronic gadget for you to consider.
Updated Sep 15, 2019
The Muse 2
The Muse 2 senses your brain activities and provide the necessary guidance to help you to focus on meditation. With the app for iOS or Android, you can launch different guidance modes for different timeframe and keep track of your progress over time.
Read More
Here
Samsung Wall Display
This is the ultimate entertainment room gadget. If you wants to build a mega party to impress your guests, this wall sized display will definitely wow all your guests. "The Wall" is the wall size TV display newly announced "The Wall Luxury" concept announced in Infocomm 2019. It is available in the summer of 2019 around July. Instead of a specific size, the Wall actually is a collection of various size display panel, from 73 inch 2K definition to 292 inch 8K definition that can be custom layout to form one logical display. Therefore it will not just fit the huge wall that you may have but also to combined to fit irregular shape display.
Read More
Here
.
Kobo eReader Forma
While Kindle may be the major share holder, the Kobo eReader Forma offer a much more flexible approach. While Kindle does not reader ePub format and Android Play books does not read .Mobi (Kindle's file format), the Kobo reads both of them. Furthermore Kobo partners with Overdrive to let you borrow ebook with your public library account. The Kobo Forma is IPX8 waterproof with a large 8" 300 Pixel Per Inch display. It comes with 8GB or 32GB storage options.
Fossil Gen 5 Android Smartwatch
The Fossil Gen 5 Android Wear OS based smartwatch offer a large collection of designs so everyone gets to pick one for their own taste. The latest model Gen 5 is based on Android WearOS but is also compatible to link with iOS devices. Being Android based device, customer can download so many premium or free watch faces as well as other functional apps from the Google's Play Store.
Sony Xperia One
The Sony Xperia One is not the top selling smartphone, but it offers an unique selling point to offer the best Cinematic Experience to its user. With the 21:9 CinemaWide 6.5" 4K HDR OLED display, the smartphone let you watch movie (at least the latest ones) without black bar on the top or bottom. With the Dolby Atmos® dynamic sound system, the phone vibrates slightly to enhance the sound effects while you are watching video.
Bundle with the Cinema Pro, a high end video recording app, Sony Xperia One let you record video with 21:9 aspect ratio and also to edit your video with professional quality. The image capture capabilities is further enhanced by the technologies from the Sony Alpha SLR cameras.
Read More
Here
.
Osake On-The-Go Touch Screen
The newly launched On-The-Go touch screen by Osaka not only offers an excellent mobile screen to enhance your productivity, it's super slick look and feel will guarantee to get your customer impressed when you are doing presentation through this 2nd screen. The monitor can also be connected with your smartphone through HDMI so you can turn your phone into a workstation anywhere. The On-The-Go monitor is powered by it's built-in batteries which is also the base case to help stand up the screen in two tilt angles, landscape or portrait mode.
Read More
Here
.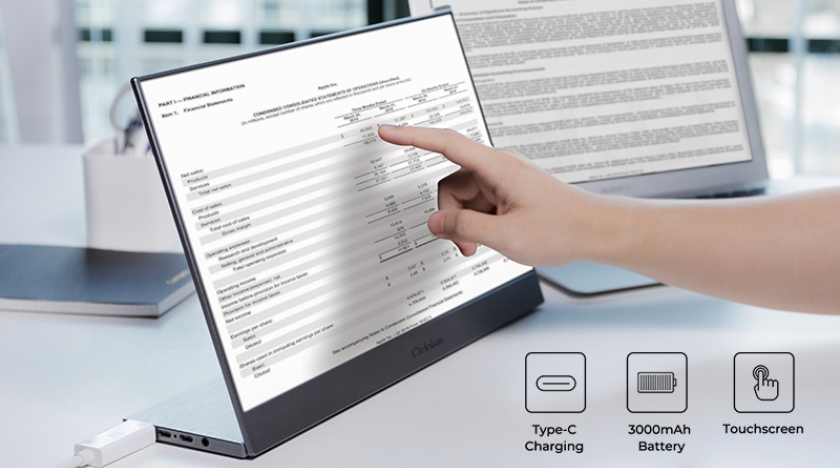 This post will be updated on an on going basis. Please do come back from time to time to see more recommendation.
The Samsung Note10 / Note10+
The Samsung Note10 / Note10+ measures 6.3 and 6.8 inches respectively. The most obvious feature is the AMOLED infinite display resulting a 93.2% screen-to-body ratio. It houses 4 camera (1 front and 3 rear) to ensure you can capture pictures and videos with large range of zoom to wide angle. You can take video of your friends with bokeh video effect by bluring the background. And of course with Note series the S-pen is alive and well. Note only that you can capture handwriting easily with S-pen, you can now remote control the phone with click and gesture. It would be a great presentation tool if you connect your phone to a larger display or projector. With internal storage up to 512GB and MicroSD up to 1TB, you can use your phone as a mobile hard disk! With all these potential heavy usage, it's nice to know that you can charge your phone in full with only 30 minutes. The official retail price for the Note10 and Note10+ are US$1259.99 and US$1,459.99 respectively.
Sigma FP - Game Changer for the Mirrorless Camera
Sigma claims that it is the world smallest and lightest full-frame camera with overall dimensions of 112.6×69.9×45.3mm and a body weight of 422g, battery included. It is equipped with a back-illuminated 35mm full-frame Bayer sensor with 24.6 effective megapixels. With a large heat sink to absorb heat produced by continuous shooting, the Sigma FP can do a 18 fps continuous shooting. Sigma is not the most common brand name average consumer but this compact full-frame camera a very unique gift idea that not too many would think of.
PolaroidLab prints your smartphone images without any network or cable
Available in Oct 2019, this is a playful digital photo scanner and printer for your smartphone! Just place your phone on top of it and press the red button you'll get an instant photo right away!
Read more
here
.